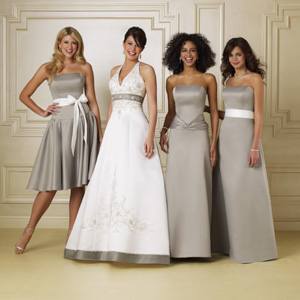 I know it's wedding season and you're likely receiving similar queries but I find myself in a bit of a pickle and hope that you and your readers can help me. So here goes:
My best friend from childhood is getting married. She elected not to have a traditional maid of honor, and instead has chosen to have all three of her bridesmaids (myself included) share MOH duties.
When we began discussing my friend's bridal shower, one bridesmaid immediately volunteered to have the shower at her house. Since I'm a Type-A person, I offered to handle the invitations and RSVPs, and the third bridesmaid said she could handle desserts, since she works at a bakery. I assumed we would then divy up the miscellaneous expenses after the fact.
About a week or so after the invitations were sent, the bridesmaid who was allowing us to use her home for the shower told me that she would take care of the food. She went on to explain that she expected myself and the third bridesmaid to handle all the additional expenses, on top of what we'd already signed up for - including games, prizes for games, favors for the attendees, decorations for her home, and all the paper products for the food. I was surprised and slightly taken aback, but she indicated this was not up for debate, so I had no choice but to agree.
The third bridesmaid was extremely busy in the days leading up to the shower, so she asked me if I could cover the expenses for the rest of the items we had to bring, and she led me to believe that we'd split the cost later. Because of this, I agreed to handle the logistics to make sure everything turned out well for my best friend. At the shower, I was shocked that the food only consisted of a fruit plate and chicken salad sandwiches, and the dessert consisted of homemade brownies and a small cake. In total, I spent well over $250 on all the items I purchased for the shower, which seemed a little unbalanced.
Yes, the shower went well, and our 15 attendees had a great time, but at the end of the day, no mention was made of reimbursement. The third bridesmaid has now moved across the country, and I won't see her again until the rehearsal dinner. So, now I'm not quite sure what my next steps should be. Should I bring it up again - and if so, when would be appropriate?
Do I just cut my losses and take note for the next time that splitting costs should be addressed during the initial planning process?
What would YOU do if you were Ms C?